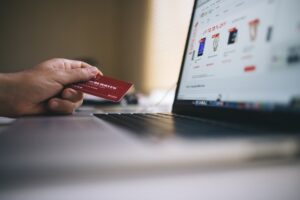 In order to survive while being forced to close doors on most sales activity, retail stores have had to become creative in how they sell products. Many have begun to take orders over the phone, offer products for curbside pick up, or provide delivery. But what will happen when this is all over? Will you go back to business as usual? Have you considered going from solely retail to starting an eCommerce business?
People are changing their habits. They are changing the way they commence everyday life, the way they shop, and the types of things they shop for. A recent study conducted by PYMNTS.com found that only 47.9% of consumers plan to resume doing activities outside the home in the same way they use to. This means that not only have they become more comfortable with their digital lifestyle, but they plan to keep it that way.
During this pandemic, business owners are doing what they can to survive. But it is also important to consider how to stay relevant to customers in the future. Especially since their buying habits are not likely to ever go back to normal.
Now is the perfect time for starting a true eCommerce business to sell your products online in addition to your retail location.
If you haven't already begun to offer your wares online, there is no better time than the present. We realize that starting an eCommerce business may seem like a big undertaking and that you probably have a lot of questions.
How do you go about creating an eCommerce site? Do you need a web designer or can you just use your current website? You already have a retail merchant account, can't you just use that? What's a gateway?
When your busy running a business, you don't necessarily have time to understand exactly what's needed to put together an eCommerce site. You may know you need a website with a storefront and that you need to accept payments. But, you may not know all of the components needed or how they work together.
In this article, we'll cover the five base requirements needed to get an online store up and running and accepting payments. We'll break down into easy terms what you need to go online and what role each part plays to create a well-oiled machine.
Starting an eCommerce Business – 5 Basics to go from retail to eCommerce
Website
Product pages for inventory
Shopping cart
Merchant account
Gateway
Go! Ha! Don't you wish it was that easy?
Website and web hosting
By now I'm pretty sure everyone knows what a website is and in fact, probably already owns one. So now you just have to decide if you want to use the one you already have, or create a new one for your eCommerce business. If you decide to keep your website it is likely that your web hosting service will have an eCommerce plug-in so you can create product pages.
Otherwise, you may choose to build a completely separate site of online sales. Luckily, these days you don't have to be ultra-techie to build a great website. WordPress coupled with WooCommerce is probably the most popular all-in-one eCommerce platform. They are fully customizable and even offer built-in marketing tools and plugins that help your site grow as the business grows. But there are many more such as Wix, BigCommerce, and Magento.
Aside from uploading products, there are a few disclosures that must be displayed clearly on your eCommerce website. And you must have these items in place before applying for a merchant account to accept payments. So, while you are building your storefront, you'll want to make sure these are taken care of first.
You will need to prominently display your Privacy Policy and Return Policy on your website. You also need your contact information, such as email address and customer service phone number, available for customers to quickly find. And lastly, shipping and delivery methods must be spelled out.
Product pages for inventory
Now, this is really just part of your website or storefront. But if you already have a business website that you are turning into your eCommerce website, then you may not already have product pages. This is where your product plug-ins come into play. Plug-ins help you customize your website with a multitude of functionalities. Again, your web hosting services may have a plug-in for you. If you are building a new website, the website building service you choose will have all the plugins you need. Many times they will even have a plug-in so you can upload your inventory from your current POS system right into your product pages.
Shopping cart
The shopping cart has greater use than just holding the product until checkout. The shopping cart will add up all the items in the cart, calculate the taxes and shipping, and give the customer the total purchase cost for the items in the cart.
It also provides a bridge between the website and payment gateway. As soon as the customer clicks the "buy" button the shopping cart pushes that total to the gateway.
Merchant account for eCommerce
You already have a merchant account for your retail business, but most likely you will need to apply for an eCommerce merchant account as well. Very few banks allow merchants to process both types of payments through the same account. Besides, eCommerce transactions are slightly more expensive to process than retail, so it could actually keep costs down to have separate accounts. If you're starting a new eCommerce business, you need an eCommerce merchant account.
When you apply for a merchant account, the underwriter will audit your website to ensure everything is in order. This is why it is important to have your website ready with all disclosures noted above in place.
Depending on the platform you choose for your eCommerce site, you may not be able to go with the processor of your choice. Shopify, for instance, is one of the most used all-in-one eCommerce platforms out there. But they require you to use their approved processor. You will not be able to use the processor you already have a relationship with for your retail store or shop for a better price or service. So, it's important to keep this in mind when choosing your platform.
Secure Gateway
Your secure payment gateway will be provided to you by your processor once you are approved for a merchant account. The payment gateway is a tool to securely transmit card data and payment information between the merchant, the processor, and the card issuer (aka Visa). The gateway is responsible for encrypting transaction data and sending the authorization request to your processor. Once the card brand approves or declines the request, the answer is sent back to the merchant through the gateway.
OK Go! You're starting an eCommerce business!
Unfortunately, eCommerce is not a case of "Build it and they will come". Of course, there is a lot more to creating a successful business online that's not covered here. But hopefully understanding these 5 basic items will get you started selling your products online. Once you get this down, read our blog on how to tweak your eCommerce website to increase conversion and reduce shopping cart abandonment.
At Bankcard Brokers we understand how hard it is to run a business. We realize that having affordable and dependable merchant services is a large part of having a successful business. We strive to exceed our client's expectations by supporting them in every way we can on their road to success. If you're interested in starting an eCommerce business and applying for an eCommerce merchant account give us a call and we'll walk you through it. Or, if you just have some questions about eCommerce, one of our ETA-Certified payment professionals will be happy to help.
Experience the "Bankcard Brokers Difference!"